Latest News
February 10, 2016 | Brenna Diaz
Seven of the states with the largest reductions in uninsured rates since the implementation of the Affordable Care Act have both expanded Medicaid and established a state-based exchange or a state-federal partnership.
February 10, 2016 | Mary Caffrey
Using surgery to promote weight loss and improve health is associated with improve mortality. This study sought information on whether survival benefits extended to patients at higher ages.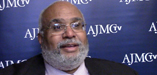 February 10, 2016 |
A lack of diversity among healthcare providers can adverse effects for the communities they serve, explained Georges Benjamin, MD, executive director of the American Public Health Association.
February 10, 2016 | Mary Caffrey
The study, while small, suggests a scalable solution that would allow payers address diabetes prevention and health disparities.
February 10, 2016 | Surabhi Dangi-Garimella, PhD
Mice administered FOLFIRINOX through the implantable device had greater tumor regression and lower tissue toxicity.
February 10, 2016 | AJMC Staff
What we're reading, February 10, 2016: 2 companies change how consumers purchase medicines online; CMS memo reveals the government is mulling changes to Medicare reimbursement; and Johns Hopkins will transplant HIV-positive organs to HIV-positive recipients.
February 10, 2016 | Jackie Syrop
As physicians and researchers question whether certain treatments for early signs of breast cancer are necessary, the first large US study will seek to determine the best way to manage ductal carcinoma in situ.
February 9, 2016 | Surabhi Dangi-Garimella, PhD
Innovation has remained high on the administration's agenda, as is evident from the allocations to tackle climate changes as well as find treatments for devastating health conditions.
February 9, 2016 | Mary Caffrey
CMS has already delayed Medicaid managed care once, pushing the start date back to at least March 1, 2016.
February 9, 2016 |
Julia Adler-Milstein, PhD, explains the importance of technology as a supporting factor in healthcare delivery, saying that it will enable patients to access their data and become more involved in their healthcare.
February 9, 2016 | Laura Joszt
A. Mark Fendrick, MD, co-editor-in-chief of The American Journal of Managed Care and director of the University of Michigan Center for Value-Based Insurance Design, testified before a Michigan senate subcommittee on the benefit of clinical nuance.
February 9, 2016 | Mary Caffrey
Mexico is the perfect example of how Coke and Pepsi are investing heavily in the next generation of soda drinkers, and the country has the highest rates of obesity in the world.
February 9, 2016 | Surabhi Dangi-Garimella, PhD
Widespread adoption of telemedicine has not been documented, and a session at the 2016 National Health Policy Conference hosted by AcademyHealth addressed some of the current challenges.
February 9, 2016 | AJMC Staff
What we're reading, February 9, 2016: Novartis signs 2 performance-based deals for its new heart drug; 8 states significantly reduced uninsured rates; and the Obama administration will ask for $1.8 billion to prepare to fight the Zika virus.
From the Journals
Cabán and Lynch
An overview of patient assistance programs at Smilow Cancer Hospital at Yale-New Haven, including their innovative hospital-based explanation of benefits form, which can eliminate patient responsibilities and help expedite the turnaround times for payment processing with copay assistance.
Dangi-Garimella
The cost issues with immuno-oncology agents are real, but so is the value that they bring to the table. How can we improve access to these agents at a reasonable cost?
Wait
Ensuring rapid, appropriate, and sustainable access to immuno-oncology therapies for patients in Europe: what role can policies play?
Dolan
To address the nationwide concern of costly immunotherapy agents, this article features health system inpatient and outpatient strategies that can help mitigate their costs.
Feinberg
Advances made in the field of immuno-oncology (I-O) in 2015 have greatly expanded our understanding of I-O and added more complexity to its value assessment.
Addario
Supporting, funding, and protecting the research and development of new medicines and new treatments is more critical, now than ever, to provide better treatments and better outcomes to all cancer patients.
Berger et al
Re-analysis of US Preventive Services Task Force colorectal cancer screening guidelines shows that every-3-year screening with multi-target sDNA could address poor performance of recommended annual testing.
Seiden
The translation of immuno-oncology agents from the research to the practice arena may provide significant clinical benefit to patients with difficult-to-treat malignancies. The further development and marketing of these agents could escalate the discussion on care equity in a time of constrained resources.
MacLean et al
Assessment of the timing of histologic and molecular testing indicates that testing occurred prior to treatment initiation for most patients with metastatic non–small cell lung cancer.