Latest News
October 19, 2017 | Jaime Rosenberg
With confusion surrounding the meaning of "savings" with regard to ACO programs, authors writing in Health Affairs outlined 3 different types of savings.
October 19, 2017 | Jaime Rosenberg
Adult ADHD diagnosis and particular child symptoms were associated with widespread macro- and micro-structural changes in the frontal, basal ganglia, anterior cingulate, temporal, and occipito-parietal regions in young adults with ADHD.
October 19, 2017 | Christina Mattina
Outcomes-based risk sharing contracts will continue to become more common as health plans, providers, and drug manufacturers realize the benefits of these arrangements, according to speakers at a session of the Academy of Managed Care Pharmacy 2017 Nexus meeting.
October 19, 2017 | Christina Mattina
At a session during the Academy of Managed Care Pharmacy 2017 Nexus meeting, a public policy expert argued that despite all of the news surrounding the Affordable Care Act (ACA), the US healthcare system may not see fundamental changes anytime soon.
October 19, 2017 | Surabhi Dangi-Garimella, PhD
Axicabtagene ciloleucel (Yescarta) has been approved to treat adult patients with diffuse large B-cell lymphoma who have not responded to or who have relapsed after at least 2 other kinds of treatment.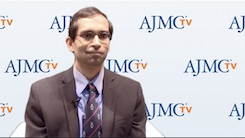 October 19, 2017 |
The COMPASS trial results could reshape the standard of care for patients with coronary artery disease (CAD) and peripheral artery disease (PAD), according to Deepak Bhatt, MD, MPH, of Brigham and Women's Hospital and Harvard Medical School.
October 19, 2017 | Alison Rodriguez
Palliative care and pain relief services are needed in health systems worldwide in order to address the high levels of health-related suffering.
October 19, 2017 | AJMC Staff
October 18, 2017 | Mary Caffrey
The injectible drug is expected to compete with Eli Lilly's Trulicity after a head-to-head trial showed superior results on glycemic control and weight loss.
October 18, 2017 | Surabhi Dangi-Garimella, PhD
The 2-year follow up results from the Keynote-024 trial were presented at the 18th World Conference on Lung Cancer hosted by the International Association for the Study of Lung Cancer in Yokohama, Japan.
October 18, 2017 | Christina Mattina
In light of recent guidance from the FDA on appropriate communications between payers and drug manufacturers prior to a drug's approval, a panel of stakeholders at the Academy of Managed Care Pharmacy 2017 Nexus meeting, discussed how these new guidelines can raise as many questions as they answer.
October 18, 2017 | Jaime Rosenberg
There is a relationship between CD8+ tumor infiltrating lymphocytes (TILs) and high-grade serous ovarian carcinoma (HGSOC) survival, according to a new study published in JAMA Oncology.
October 18, 2017 | Alison Rodriguez
Patients with chronic obstructive pulmonary disease (COPD) often require complex medication regimens that are associated with significant disease severity, comorbidities, and multidimensional indices, according to a study.
October 18, 2017 | Kelly Davio
In a recent JAMA Viewpoint, Andrew Kolondy, MD, and Thomas R. Frieden, MD, MPH, called on the US federal government to take 10 steps to address the problem of opioid addiction.
From the Journals
Nubla et al
An in-depth look into a nationwide collaborative initiative to standardize and improve oncology dispensing practices for the benefit of patient/provider education, adherence, and overall care.
Clough et al
The authors used Medicare claims data to examine trends in hospital–physician integration in high-volume specialties, including medical oncology.
Cuellar et al
Financial incentives created under the Affordable Care Act can help promote employer wellness programs and support preventive services utilization.
Ehlers et al
Understanding the relationships among patient-reported outcomes, satisfaction, and quality is the first step in drawing meaningful conclusions that can then be translated into policy.
Shank et al
With the clinical and financial implications of high-cost medications, and their impact on health system revenue, it is of utmost importance for all key stakeholders to be engaged in the complex revenue cycle.
Leber
The hospital formulary system is an ongoing process that evaluates and selects the safest, most effective, and most economical care for hospitalized patients. As healthcare continues to change, so will the formulary management process.
Sharp et al
Antibiotics are not required to achieve high patient satisfaction. Patient age, chronic conditions, and an established patient–provider relationship influence satisfaction with acute care.
Produced by Laura Joszt and The Center for Biosimilars®
AJMC®TV interviews let you catch up on what's new and important about changes in healthcare, with insights from key decision makers—from the clinician, to the health plan leader, to the regulator. When every minute in your day matters, AJMC®TV interviews keep you informed. Access the video clips at ajmc.com/interviews.