2012 America's Health Insurance Plans (AHIP) Fall Forum 2012
Coverage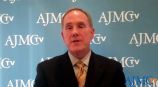 Dec 05, 2012
|
AHIP Fall Forum 2012
"Health insurance exchanges are the first step in the consumerization of the healthcare marketplace," said David Brailer, MD, PhD, chairman, Health Evolution Partners.
Dec 04, 2012
|
AHIP Fall Forum 2012
An expanding retail marketplace means that there are more opportunities for health plans to develop innovative strategies to reach consumers that are entering the market space for the first time. It is essential for health plans to not only engage these consumers but also to assist them in making good healthcare decisions.
Dec 04, 2012
|
AHIP Fall Forum 2012
Ashish Jha, MD, MPH, associate professor of Health Policy and Management, Department of Health Policy and Management, Harvard School of Public Health, says that there are many challenges facing the quality of data used to transform healthcare delivery systems.
Dec 04, 2012
|
AHIP Fall Forum 2012
Gail Wilensky, PhD, senior fellow, Project Hope, says that larger payers are introducing plans that reward consumers for choosing high-quality healthcare clinicians with lower co-payments and premiums.
Dec 04, 2012
|
AHIP Fall Forum 2012
Incomprehensible amounts of data are collected by all sectors of the healthcare industry on a daily basis. It is important for organizations to not only understand how to handle and collect this data, but also to translate it into actionable information that can help transform healthcare delivery. Unfortunately, many pitfalls still exist, and there is a need for better processes to collect clinically relevant and more complete data.
Dec 04, 2012
|
AHIP Fall Forum 2012
Avik Roy, senior fellow, Manhattan Institute, says that health insurance exchanges will, over time, become the main method of delivering health insurance in the United States.
Dec 04, 2012
|
AHIP Fall Forum 2012
Tuesday morning at AHIP's Fall Forum 2012 included a session on the methods in which evolving technologies and disruptive innovations will undoubtedly lead to better and more cost-efficient patient care.
Dec 03, 2012
|
AHIP Fall Forum 2012
The America's Health Insurance Plans Fall Forum 2012 is taking place in Chicago's Renaissance Hotel from December 3-5. Here are some of the topics and trends that will be discussed.