Latest News
October 8, 2015 | Surabhi Dangi-Garimella, PhD
A new study published in the journal BMJ Innovations that surveyed doctors and nurses in the United Kingdom has found routine breach of patient privacy through the use of digital devices.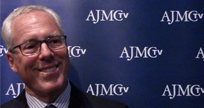 October 8, 2015 |
The digitization of health will help to identify patients when they're most vulnerable and present new opportunities to change the trajectory of their disease before they suffer avoidable consequences associated with chronic disease, said Lonny Reisman, MD.
October 8, 2015 | Laura Joszt
Many individuals with chronic obstructive pulmonary disease (COPD) are only diagnosed after they experience late-stage exacerbations, but a new tool could hasten the process of diagnosing cases of COPD.
October 8, 2015 | AJMC Staff
Steven Rosenberg, MD, chief of surgery at NCI's Center for Cancer Research, has been awarded the 2015 Samuel J. Heyman Service to America Medal, or Sammie for his contributions to the field of immune-based cancer treatments.
October 8, 2015 | Mary K. Caffrey
Taking aim at payment models for patients on dialysis is the latest attempt to target high-cost areas of Medicare spending.
October 8, 2015 | Surabhi Dangi-Garimella, PhD
A retrospective follow-up in women who had received grafts of cryopreserved ovarian tissue discovered a 30% success rate in bearing a child.
October 8, 2015 | Mary K. Caffrey
Intense lobbying and charges of bias surround the late efforts to influence what goes into the 2015 Dietary Guidelines for Americans. A recommendation from an advisory committee to eat less red and processed meat has fueled most of the controversy.
October 7, 2015 | Laura Joszt
Millions of Americans with serious illness, such as cancer, heart disease, kidney disease, and dementia, continue to have inadequate access to palliative care, according to the 2015 State-by-State Report Card from the Center to Advance Palliative Care.
From the Journals
Barosh, Church, Morgan, Bianchetti, Hu, et al
Through a multi-site, multidisciplinary approach, AYA@USC addresses the unique needs of young adult cancer patients, improving outcomes and bridging the care gap in this population.
Roseland
My role as a patient was simple—accept the suffering I had to endure. But it becomes hard to find the line between when to suffer and when to question.
Rosenthal
Adolescent and young adults (AYA) constitute a distinct population amongst patients with cancer. Historically, AYA patients with ALL treated along pediatric-inspired protocols had better outcomes compared to those treated on standard "adult type" regimens.
Anderson
End-of-life care for adolescents and young adults requires an approach that addresses the unique developmental and spiritual issues seen in that population.
Hemingway, Narayan, Avery
A discussion on the challenges of implementing standards for addressing fertility risks associated with cancer and its treatment and describes an interactive training for healthcare providers to help them overcome challenges to implementation.
Diller
Suggestions on how to approach a childhood cancer survivor in your practice, several useful resources, and information on what referrals and tests may be indicated.
Jessica S. Ancker, MPH, PhD; Samantha Brenner, MD; Joshua E. Richardson, PhD, MLIS, MS; Michael Silver, MS; and Rainu Kaushal, MD, MPH
During the early years of the "meaningful use" program, surveys found decreases in both optimism and concerns about electronic health records.
Trevor McKibbin, PharmD, MS, BCOP