Latest News
November 30, 2015 | Laura Joszt
In California, a class action lawsuit has been filed on behalf of thousands of Blue Cross beneficiaries living with hepatitis C who were denied treatment.
November 30, 2015 | Mary K. Caffrey
Two separate lawsuits have challenged the health insurance plan, which seeks to give some hospitals lower reimbursements in exchange for directing large numbers of patients their way. After business hours, the attorney for a group of hospitals said regulators declined to stay their approval of the tiered network.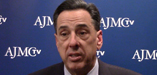 November 30, 2015 |
The current dialogues occurring between payers and providers is critical in today's healthcare environment, and it's an interaction that certainly was not happening just 5 or 6 years ago, according to Ted Okon, executive director of the Community Oncology Alliance.
November 30, 2015 | Surabhi Dangi-Garimella, PhD
Following the approval of daratumumab earlier this month, multiple myeloma patients now have another opportunity to combat the disease: elotuzumab.
November 30, 2015 | Surabhi Dangi-Garimella, PhD
Relaxed direct-to-consumer advertising restrictions for drugs by the FDA in 1997 has precipitated an increase in prescription drug utilization, not just among Medicare enrollees, but also among non-elderly users.
November 30, 2015 | AJMC Staff
What we're reading, November 30, 2015: the Spanish language HealthCare.gov is lagging in sign-ups; the overall federal insurance exchange has fewer preferred provider organizations; and many Americans don't understand why they need the flu vaccine.
November 30, 2015 | AJMC Staff
The link between low testosterone and decreased insulin sensitivity had been shown in previous research.
November 29, 2015 | Laura Joszt
A small majority (51%) of US adults now believe that the federal government has a responsibility to ensure all Americans have health insurance coverage.
From the Journals
Caffrey
Results from the ELIXA trial were presented in June at the 75th Scientific Sessions of the American Diabetes Association.
Caffrey
The algorithm-driven system in the study was a step up from the improved technology that has reached the market in recent years, providing more consistent glucose control.
Caffrey
The weeks leading up to the release of the Dietary Guidelines for Americans have seen a series of reports on what kinds of diets work and attacks on the work that went into the report that informs the nation's nutrition policy.
Smith
An Interview with Joslin's George King, MD
Sparling et al.
This commentary was adapted from an appearance by the authors at Patient-Centered Diabetes Care, a conference jointly presented by The American Journal of Managed Care and Joslin Diabetes Center.
Caffrey
Research at the University of Tennessee Health Sciences could lead to human trials in the next 2 to 3 years.
Smith
Several clinical trials under way are examining whether a new class of therapy approved to treat type 2 diabetes can also treat type 1.
Saraiya
A partnership between JDRF and Janssen Pharmaceuticals seeks ways to intercept the disease before it progresses.
Kyle et al.
Employer policies for access to maximum benefits do not always match those for access to obesity therapy.