Latest News
May 6, 2016 | Mary Caffrey
Even thought prices for both drugs in Britain was less than half the list price in the United States, NICE demanded further discounts before issuing a draft guidance that the therapies were appropriate for those who cannot otherwise lower cholesterol.
May 6, 2016 | Brenna Diaz
Despite a high prevalence, rates of cardiac dysfunction and diastolic dysfunction are overwhelmingly unrecognized among the Latino/Hispanic population in the United States.
May 5, 2016 | Surabhi Dangi-Garimella, PhD
With reports documenting the shockingly rising use of e-cigarettes by middle and high school children, the announcement today that the FDA will extend its regulatory authority to include e-cigarettes is welcome news.
May 5, 2016 | Brenna Diaz
Patients with acute myeloid leukemia are extremely susceptible to infection, especially due to the prevalence of neutropenia.
May 5, 2016 | Surabhi Dangi-Garimella, PhD
Scientists have discovered a new biomarker that could predict survival outcomes, and help establish the need for aggressive treatment, in patients with head and neck cancer.
May 5, 2016 | AJMC Staff
What we're reading, May 5, 2016: obtaining life-ending medications under California's new law won't be easy come June 9; Arizona is now the only state to not participate in CHIP; struggling insurers propose big premiums increases on Obamacare plans.
May 5, 2016 | Mary Caffrey
Smoking rates reported by insurers serving the ACA exchanges were consistently lower than findings from the CDC, suggesting that some are not being honest to avoid surcharges.
May 5, 2016 | Mary Caffrey
Discovery of the mechanism that connects low testosterone with diabetes could lead to better treatments for men as they age.
May 4, 2016 | Mary Caffrey
CDC also published a separate study that found more people in the United States now die from hepatitis C than die from HIV or any other infectious disease. The report comes as The American Journal of Managed Care publishes a special issue on policy concerns over patient access to new therapies that cure HCV.
May 4, 2016 | Jackie Syrop
A new study finds that more than one-third of heart failure (HF) patients do not receive recommended HF-specific medications within 30 days of diagnosis.
May 4, 2016 | Surabhi Dangi-Garimella, PhD
Safe disposal of prescription drugs is turning out to be a costly endeavor, and the pharmaceutical industry seems to want no part of it.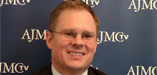 May 4, 2016 |
Patients and families can still have a limited understanding of palliative care, which may mean they have an open mind toward the suggestion, said Toby C. Campbell, MD, MSCI, associate professor of medicine, hematology-oncology at the University of Wisconsin School of Medicine and Public Health.
May 4, 2016 | AJMC Staff
What we're reading, May 4, 2016: heart disease risk calculator has led to overtreatment; healthcare price transparency tool actually increased spending for those who used it; and Martin Shkreli may be facing additional charges.
May 3, 2016 | Surabhi Dangi-Garimella, PhD
A new commentary in the New England Journal of Medicine has cautioned clinicians to tone down the perceived benefits of earlier screening in colorectal cancer.
From the Journals
Bhattacharya
This special issue presents important new peer-reviewed research, covering ground ranging from issues related to access and the out-of-pocket costs of a treatment course, to the real-world consequences—both economic and clinical—of failing to treat.
Lakshmi et al
The authors examine real-world hepatitis C virus cure rates with direct-acting antivirals among patients coinfected with HIV.
Karmarkar et al
Member cost negatively affects initial medication adherence and manufacturer coupons can decrease member share by up to 98%.
Younossi et al
In the treatment of hepatitis C virus, the gap between efficacy and real-world effectiveness narrows with improved tolerability and ease of use.
Jung et al
This study analyzes the current coverage designs for hepatitis C virus drugs by Medicare Part D plans.
Moreno et al
Expanding private-payer coverage of hepatitis C treatment may yield significant long-term cost savings for private payers, reduced costs to Medicare, and increased social value.
Jena et al
Advances in treatment for hepatitis C virus (HCV) have the potential to generate considerable spillover benefits to patients awaiting transplants, especially among those with non–HCV-mediated liver failure.
Linthicum et al
Expanding screening for hepatitis C virus infection may generate substantial benefits for patients and society, but only when paired with expanded treatment policies.
Lakdawalla et al
Despite the high cost of novel hepatitis C treatments and patients' apparent willingness to bear part of it, high patient cost sharing is both inefficient and inequitable.