Latest News
May 25, 2016 | AJMC Staff
Results from the phase 3 trials will be presented next month at the American Diabetes Association Scientific Sessions in New Orleans.
May 25, 2016 | Mary Caffrey
The practical document will be of greatest use to smaller hospitals still building antibiotic stewardship programs from scratch. CDC estimates that drug-resistant bacteria infect 2 million people a year and cause 23,000 deaths.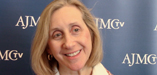 May 25, 2016 |
The bar is set very high in terms of the biosimilar requirement definition, and physicians who are hesitant about substituting biosimilars for treatment should not be worried about the perceived differences, according to Pamela S. Becker, MD, PhD, professor of medicine in the Division of Hematology at the University of Washington School of Medicine.
May 25, 2016 | Mary Caffrey
The largest group of endocrinologists first declared obesity a disease in 2012. Guidelines call for making relief of weight-related complications the first priority, not weight loss per se.
May 25, 2016 | Surabhi Dangi-Garimella, PhD
Oncologists at the Mayo Clinic have developed a more aggressive approach to treating patients with pancreatic cancer—combining surgery, chemotherapy, and radiation, surgical oncologists have been successful in significantly improving survival in a small number of patients.
May 25, 2016 | Priyam Vora
A major shift in expenditures by payer type for opioid pain relievers occurred along with a 4-fold increase in overdose deaths from opioids in the United States.
May 25, 2016 | AJMC Staff
What we're reading, May 25, 2016: Senior citizens are expected to be sicker and more costly than the previous generation; men with early-stage cancer are increasingly choosing to avoid treatment; and the FDA is looking at an implantable treatment for opioid addiction.
May 24, 2016 | AJMC Staff
Two months after the approval of the first biosimilar to infliximab, another Biologics License Application is now under FDA review.
May 24, 2016 | Mary Caffrey
The smallest overall increase in the MMI in 15 years is masked by the fact that employees are bearing an increasingly large share of healthcare costs.
May 24, 2016 | Mary Caffrey
A recent study showed patients with type 2 diabetes did better if given the combination therapy at the outset than if given 1 of the components as monotherapy.
May 24, 2016 | Jackie Syrop
California's approach to the healthcare marketplace, Covered California, has successfully held down premium costs because it has authority to select health insurers.
May 24, 2016 | Surabhi Dangi-Garimella, PhD
A survey conducted by MaPS/Millward Brown Analytics, on behalf of Memorial Sloan Kettering Cancer Center, has identified multiple concerns of American consumers with cancer clinical trial participation, which could be responsible for the dismal 4% national enrollment rate in clinical trials.
May 24, 2016 | AJMC Staff
What we're reading, May 24, 2016: Doubt grows about the stability of the Anthem-Cigna merger; use of e-cigarettes and vaping devices stalls in the US; and drugmakers are cautious about developing a Zika virus.
May 23, 2016 | Surabhi Dangi-Garimella, PhD
A phase 1 study in 225 patients diagnosed with breast cancer, non-small cell lung cancer, glioblastoma, melanoma, or colorectal cancer has concluded that abemaciclib, a selective inhibitor of the cell cycle regulators CDK4/6, has single-agent activity in specific tumor types.
From the Journals
Melnyk
When providers move from employing traditional practices to new methods that are steeped in evidence, this benefits patient health. The result is higher-quality, more affordable care, often stemming from lower rates of hospital infections, readmissions, and, in general, improved outcomes.
Funk and Sorensen
Authors from the University of Minnesota College of Pharmacy highlight the role that pharmacists can play in care optimization for seniors with chronic conditions.
Payne
Now that Medicare is poised to pay for the Diabetes Prevention Program, the next question is how to make it scalable.
Sebastian and Logston
How does the largest payer in a state with a large senior population respond to the rising need for diabetes care and prevention?
Sheehan and MacEwan
The authors discuss a simple strategy for payers to ensure more patients with type 2 diabetes achieve control of A1C.
Davidson and Parkin
A recent Diabetes Care study found flaws in Medicare's competitive bidding program for diabetes test strips. Two of that study's co-authors discuss the findings and why CMS should suspend the bidding program.
Patrick
The author, who has lived with type 1 diabetes for more than 50 years, shares his account of a successful appeal of Medicare's policy of refusing to pay for continuous glucose monitoring (CGM.)
Gottlieb et al
This review examines the breadth of published work on interventions addressing nonmedical determinants of health that are supported by Medicaid managed care organizations.
Vogeli et al
Hybrid approaches allow for clinician input into case finding for care management, but training and monitoring is required to protect against unintentional biases.