Latest News
August 26, 2016 | Mary Caffrey
Researchers found a dose-response relationship for several cancers involved in eating, meaning the higher the weight, the greater risk of cancer.
August 26, 2016 | Jackie Syrop
Advances in genetic technologies have a great potential to be used to advance treatments, especially through personalized medicine. However, there are concerns that disadvantaged groups do not have access to these advances.
August 26, 2016 | Laura Joszt
Margaret E. O'Kane has been making lasting impacts on healthcare quality measurement for years. But when she founded the National Committee for Quality Assurance, the organization was sometimes underestimated and not taken seriously.
August 26, 2016 | AJMC Staff
What we're reading, August 26, 2016: the middle class is burdened with increasing healthcare costs; how much do voters need to know about presidential candidates' health; and honoring the end-of-life wishes of patients with dementia.
August 26, 2016 | Surabhi Dangi-Garimella, PhD
The FDA has several projects under its wings that can improve the regulatory aspect of drug development and healthcare overall.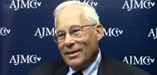 August 26, 2016 |
In a series of video interviews, Donald M. Berwick, MD, MPP, president emeritus and senior fellow of the Institute for Healthcare Improvement, discussed the lessons learned from the Aligning Forces for Quality initiative.
August 25, 2016 | Surabhi Dangi-Garimella, PhD
Based on the results of the MINDACT trial, investigators have concluded that chemotherapy is unnecessary in women with early-stage breast cancer who have a high clinical and low genomic risk of disease recurrence.
August 25, 2016 | Laura Joszt
As health insurers reduce their involvement in the Affordable Care Act (ACA)'s insurance exchanges and states approve sharp premium increases for 2017, HHS is trying to assuage fears that coverage under the ACA will be unaffordable for consumers next year.
August 25, 2016 | Mary Caffrey
Researchers found that changing cooking methods could allow people at risk of developing diabetes to reverse damage done by things like grilling and frying their food.
August 25, 2016 | Mary Caffrey
The study in JAMA represents the largest effort to date to integrate mental health and primary care services across a health system and measure both clinical outcomes and savings.
August 25, 2016 | AJMC Staff
What we're reading, August 25, 2016: Hillary Clinton proposes fund for public health crises; hospitals that treated victims of the Orlando Pulse nightclub shooting will not bill survivors; and 1 in 4 people admit to using leftover antibiotics.
August 25, 2016 | Surabhi Dangi-Garimella, PhD
Research at Massachusetts General Hospital has provided vital leads that can explain drug resistance observed in breast cancer.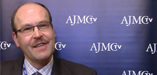 August 25, 2016 |
Digital technology has great potential to improve the communication between providers and members, said Albert Tzeel, MD, MHSA, FAAPL, regional medical director of senior products at Humana. However, there are also drawbacks that come alongside digital technology that Dr Tzeel said is worth considering.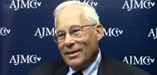 August 24, 2016 |
Getting people to change their mentality when it comes to their health is a very difficult prospect, but one that researchers attempted to tackle as part of the Aligning Forces for Quality (AF4Q), explained Donald M. Berwick, MD, MPP, president emeritus and senior fellow of the Institute for Healthcare Improvement. Berwick served as the special guest editor for the supplement publishing results of the AF4Q initiative.
From the Journals
Kymes et al
The authors found that comorbidity burden and the direction of behavioral change influence the relationship between adherence and medical spend. This could affect the cost-benefit considerations of medication adherence programs.
Alvarnas
This issue of Evidence-Based Oncology is dedicated to understanding the implications, scope, and opportunities within the realm of cost sharing in oncology.
Dangi-Garimella
Financial burden is a potential nonclinical adverse event in cancer patients. As patients, especially those in the lower income ranges and the middle class, struggle to meet their medical bills, the likelihood of them skipping doses or doctor's visits is quite high.
Chell
Reducing barriers to hematopoetic stem cell (HPC) transplant is critical to supporting patients with one of the more than 70 blood cancers and other blood disorders (such as leukemia, lymphoma, and myloplastic dysplasia) for which a transplant may be the only therapy remaining with curative intent.
Watson and Landwehr
Young adult (YA) cancer survivors are hit the hardest in the wallet by their treatment. The average net worth of YAs who have received grants from The Samfund is a staggering –$35,000, while their counterparts in the general population is $68,000
Conway and Marino
Precision oncology, or the clinically and financially efficient use of genomically matched treatments and clinical trials, is evolving as a potentially important starting point for cancer care within successful alternative payment models.
Sharpe et al
Since 2005, American Cancer Society has sponsored the Health Insurance Assistance Service, a unique initiative to help cancer patients navigate the private coverage system and to educate policy makers about how coverage works for patients with this serious and chronic condition.
Frank
When it comes to health coverage, most Americans face an unnerving reality—they have no idea what is covered under their health insurance policy until after they are affected by illness or disease.
Dangi-Garimella
A study by researchers at the University of California, Berkeley, found that patients who have access to the prices charged by a testing laboratory, as well as reference pricing, choose lower-cost laboratories, a move that results in overall cost savings.