ACR 2016
The American College of Rheumatology, along with the Association of Rheumatology Health Professionals, will present its Annual Meeting in Washington, DC, from November 11-16, 2016. More than 16,000 attendees will gather to learn more about the science of rheumatologic care and discuss the prevention, diagnosis, and treatment of rheumatic diseases. Sign up for our daily e-mail blasts on our registration page, and check back here during the conference for the full coverage.
Coverage
Treating patients with rheumatoid arthritis can be difficult because the available drugs do not treat all symptoms. However, the Vectra DA test can help physicians more quickly understand if a patient is responding or needs to switch therapies, explained Grace C. Wright, MD, PhD, clinical associate professor of medicine and attending rheumatologist at New York University Langone Medical Center.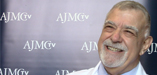 There is a need in rheumatoid arthritis to be able to individualize treatments, but without credible and reliable biomarkers, it just isn't possible yet, said Allan Gibofsky, MD, professor of medicine and public health at Weill Cornell Medical College and an attending rheumatologist at Hospital for Special Surgery.
Treat-to-target has largely become the preferred method for physicians treating patients with rheumatoid arthritis.
Gerd Burmester, MD, of Charité – Universitätsmedizin Berlin, discussed the results of a randomized, double-blind monotherapy study comparing the safety and efficacy of sarilumab with adalimumab in patients who cannot tolerate methotrexate.
Nov 16, 2016
|
ACR 2016 > Christina Mattina
At the Annual Meeting of the American College of Rheumatology in Washington, DC, several experts presented their progress in harnessing technology to help teenagers and young adults manage their juvenile arthritis.
During a session at the Annual Meeting of the American College of Rheumatology, Jeffrey Curtis, MD, discussed the ways in which patients with rheumatoid arthritis who demonstrate a less-than-adequate response to a tumor necrosis factor inhibitor can be treated with another disease-modifying antirheumatic drug.
During a session at the Annual Meeting of the American College of Rheumatology, John D. Isaacs, MD, PhD, FRCP, not only reviewed regulatory perspectives as biosimilars enter the market, but conveyed the importance of crafting antibodies to our own purposes.