Currently Viewing:
Evidence-Based Oncology August 2015
Personalized Medicine: On the Brink of Revolutionizing Cancer Care
Sean Khozin, MD, MPH; and Gideon Blumenthal, MD
With unprecedented activity in the area of precision medicine, with the successful development of several targeted therapies, the FDA has been in the forefront of efforts to ensure timely access to, and the safe and effective use of, these therapies.
Introduction
Personalized (or precision) medicine has been broadly described as the administration of the right therapy to the right patient at the right dose and intensity. The idea behind personalized medicine is not new and the phrase started to appear in the English literature in the late 1800s.
1
Emphasis on the therapeutic patient-doctor relationship was among the earliest strategies for tailoring care to the specific needs of the patient. For example, house calls were a common method for delivering medical care until the early 20th century and allowed doctors to incorporate both quantitative (eg, discrepancies in medication regimens) and qualitative (eg, a patient's performance status and support at home) information into an individualized care plan.
2
Modern concepts in personalized medicine are defined by their focus on utilizing advances in technology for tailoring care. Blood typing to guide transfusions, monitoring the international normalized ratio for dosing warfarin, and predicting hypersensitivity reactions to the antiretroviral drug abacavir based on the presence of the HLA-B*5701 allele are well-known examples of a biomarker-driven approach to personalizing care in modern medicine.
3
Recently, key stakeholders have articulated widespread support for bringing greater focus to personalized medicine. This commitment is fueled by recent advances in molecular biology, genomics, and health information technology.
4
In his 2015 State of the Union address, President Obama announced the Precision Medicine Initiative. The president's 2016 Budget includes a $215-million investment for the Initiative, the purpose of which will be to "pioneer a new model of patient-powered research that promises to accelerate biomedical discoveries and provide clinicians with new tools, knowledge, and therapies to select which treatments will work best for which patients."
5
Important components of this initiative include new funding for the National Cancer Institute to identify genomic drivers in cancer, and for the FDA to create a regulatory framework in support of innovations in precision medicine (
Table 1
).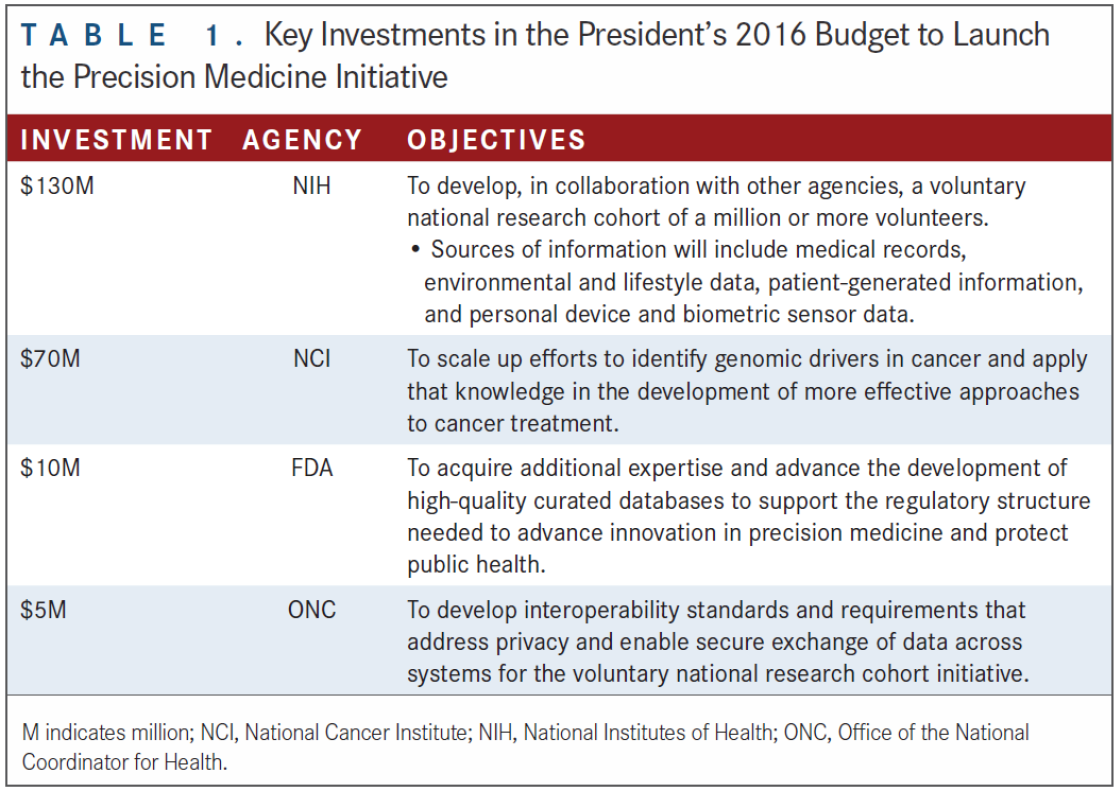 On Target
The president's Precision Medicine Initiative underscores the emphasis placed on personalizing care in the fight against the emperor of all maladies: cancer.
6
The field of oncology has recently seen unprecedented activity in this area with the successful development of several targeted therapies, and the FDA has been in the forefront of efforts to ensure timely access to, and the safe and effective use of, these therapies.
Targeted therapy can be defined as a treatment with a molecular target that controls biologically important processes that are central to the initiation and maintenance of cancer. Ideally, the target should be measurable in the clinic and measurement of the target should correlate with clinical benefit following administration of the targeted therapy.
7
Of the 29 FDA approvals by the Office of Hematology and Oncology Products since the beginning of 2014, the majority have been of therapies with specific targets (
Table 2
).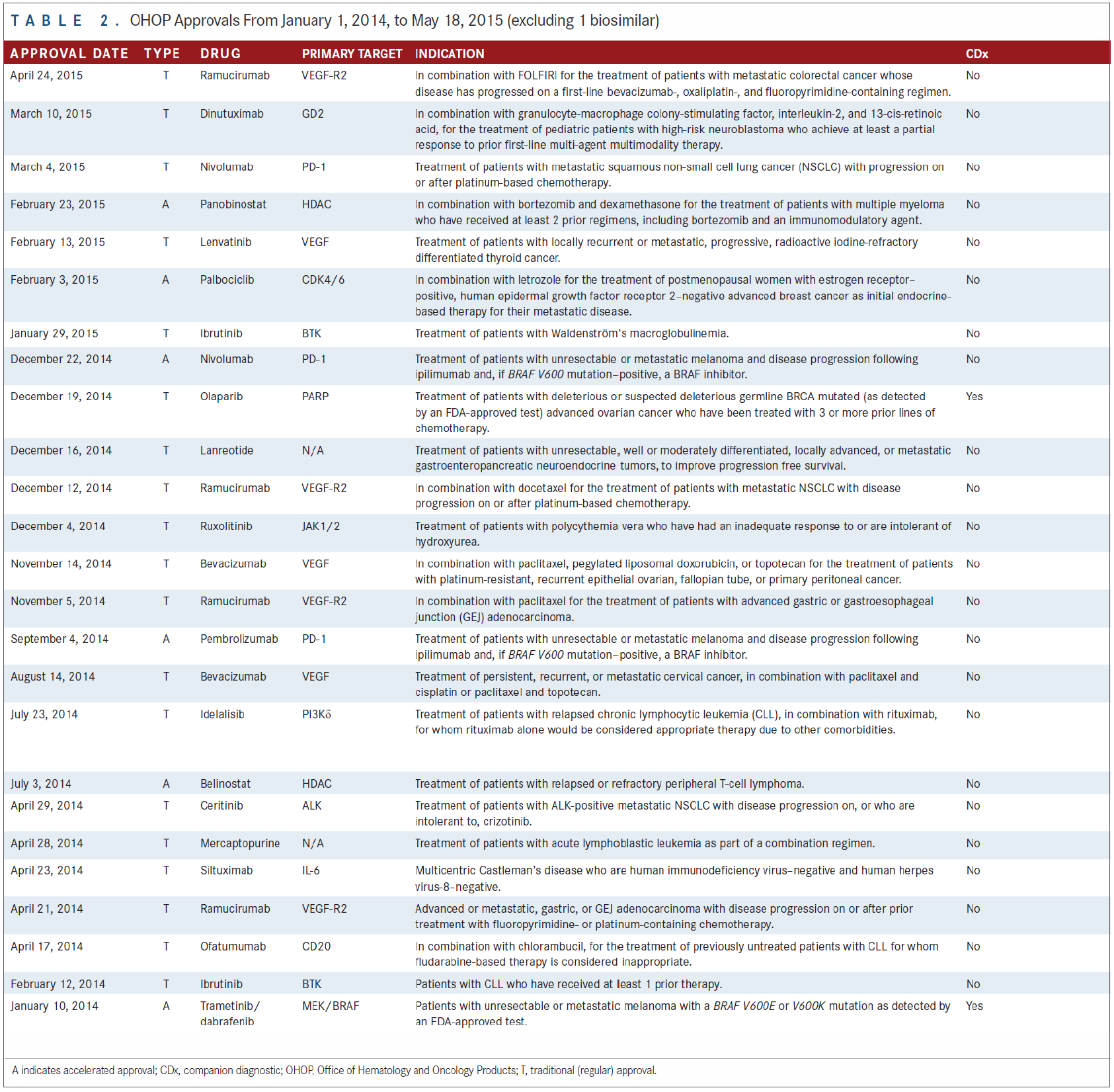 The FDA's expedited programs have provided an efficient regulatory framework for accelerating the development and review of personalized therapies.
8
One of the most recent additions to the FDA's expedited programs is breakthrough designation, outlined in Section 902 of the Food and Drug Administration Safety and Innovation Act (FDASIA), which was signed into law on July 9, 2012.
9
Requests for breakthrough designation can be made when preliminary clinical evidence indicates that the drug may demonstrate substantial improvement over existing therapies on 1 or more clinically significant end points for the treatment of serious or life-threatening diseases such as advanced cancers. Following designation, the FDA mobilizes its resources to expedite the development and review of the designated drug. Since the program's inception, nearly half of the requests have been for oncology drugs, most of which have been targeted therapies. The description in the following section of the approval of the targeted agent ceritinib, the first breakthrough designated drug for the treatment of advanced lung cancer, illustrates the FDA's organizational commitment to the program.
Opportunities and Challenges in Developing Targeted Therapies
Small Molecule Kinase Inhibitors
In the late 1980s, scientists began identifying compounds with inhibitory activity against protein kinases.
10
At the time, evidence emerged on the molecular genetics of chronic myeloid leukemia (CML) underpinning the cytogenetically visible shortening of chromosome 22 (ie, the Philadelphia chromosome) described in prior decades.
11-13
The Philadelphia chromosome is the product of an oncogenic reciprocal translocation between chromosomes 9 and 22 [t(9;22)(q34;q11)], resulting in a fusion protein called BCR-ABL with a constitutively activated tyrosine kinase domain.
14
On May 10, 2001, imatinib, a BCR-ABL tyrosine kinase inhibitor (TKI), was approved by the FDA based on demonstration of exceptional clinical activity and a favorable safety profile in patients with CML.
15
The approval of the drug, heralded as a magic bullet and a new hope for cancer, created significant excitement about the promise of targeted therapies. Commenting on the contributions of his laboratory to the development of imatinib, the 2009 recipient of the Lasker-DeBakey Clinical Medical Research Award, Brian Druker, observed that maximizing the value of targeted therapies in treating cancer would require directing these agents to genetic or epigenetic changes in tumors, tumor metabolism, stem cells, and tumor-stroma interactions.
16
The FDA's accelerated approval in 2011 of the anaplastic lymphoma kinase (ALK) TKI demonstrates the value of the tailored approach articulated by Druker in delivering targeted therapies.
17
While
ALK
gene rearrangement is present in about 5% of patients with advanced non-small cell lung cancer (NSCLC),
18
ALK
mutations involve oncogenic inversions within the short arm of chromosome 2 with a fusion protein product (most common being EML4-ALK) that bears a constitutively activated kinase domain.
19
The accelerated approval of crizotinib was based on the demonstration of durable overall response rates (ORRs) of 51% and 60% and a favorable safety profile in patients with advanced
ALK
-positive NSCLC in 2 single-arm trials, a treatment effect far superior to traditional chemotherapy's ORRs of 10% to 30% based on historical experience. A companion diagnostic assay based on an ALK break-apart fluorescence in situ hybridization kit was concurrently approved for patient selection. In 2013, crizotinib received traditional (ie, regulator) approval based on demonstration of superior progression-free survival (PFS) in a confirmatory randomized trial against second-line chemotherapy (docetaxel or pemetrexed) in patients with
ALK
-positive advanced NSCLC.
20
Similar to the EGFR TKIs afatinib and erlotinib, which received traditional FDA approval in 2013 for use in patients with advanced
EGFR
mutation–positive NSCLC, patients taking crizotinib invariably have tumor progression, usually within the first year of treatment.
21
Development of resistance to TKIs occurs via different mechanisms, including emergence of secondary mutations and bypass oncogenic signaling pathways. In early 2013, the FDA granted a second-generation ALK inhibitor, ceritinib, breakthrough therapy designation based on preliminary evidence of clinical activity in patients with metastatic
ALK
-positive NSCLC previously treated with crizotinib. Ceritinib subsequently received accelerated approval for patients with advanced
ALK
-positive NSCLC based on demonstration of durable ORR and favorable benefit-risk in patients whose disease had progressed on crizotinib.
22
Ceritinib's approval came only 3 years following initiation of the first-in-human trial and 4 months after submission of the new drug application, demonstrating the FDA's commitment to expedite the development and review of promising and breakthrough-designated therapies.
Targeting oncogenic driver mutations by inhibition of constitutively activated kinase products using kinase inhibitors has also been successful in other diseases, such as
BRAF
-mutated melanoma. The BRAF inhibitor dabrafenib was approved in 2013 for treatment of patients with unresectable or metastatic melanoma with
BRAF
V600E mutation based on superior PFS improvement and a favorable safety profile in a randomized trial with dabrafenib versus a standard chemotherapeutic agent, dacarbazine.
23
As with EGFR and ALK TKI in advanced NSCLC, resistance to dabrafenib usually develops within the first year of treatment.